Blue & Obrecht Selected to Lease 1301 York Road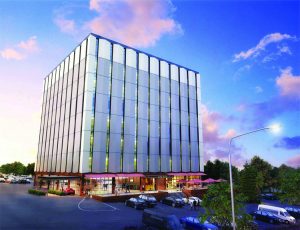 Blue & Obrecht Realty, LLC is pleased to announce that it has been selected as the exclusive leasing agent for 1301 York Road – Heaver Plaza – in Lutherville.  David Paulson, Patrick Smith and J.C. Beese, III will lead the Blue & Obrecht Realty leasing team.
"We are excited to work on this assignment because we are witnessing the re-birth of a landmark office building in a strategic location," said David Paulson, vice president of Blue & Obrecht Realty.  "The building has numerous long-term tenants and can accommodate new tenants looking for a long-term solution to their office needs."
Built in 1969, the building was recently acquired by a local partnership.  The new owners are committed to extensive renovations of the building, including upgraded lobbies, HVAC, common areas, elevators, restrooms and landscape.  Ratcliffe Architects is providing architectural services for the renovations, scheduled to be completed within the next 12 to 18 months.  The building has a variety of office spaces available from 773 square feet to 14,000± square feet for a full floor tenant.
Consisting of 112,000± square feet, the building is strategically located along York Road adjacent to Exit 26 of the Baltimore Beltway.  The building features on-site banking and the iconic Peppermill restaurant, and it is easily accessible to myriad retail amenities along the York Road corridor.
Blue & Obrecht Realty, LLC / CORFAC International is a full-service commercial real estate firm offering landlord and tenant representation, and property acquisition and disposition services.  CORFAC International – Corporate Facility Advisors – is an alliance of entrepreneurial commercial real estate firms that partner to deliver quality and experienced service locally, nationally, and internationally.