"Sleepless in Seattle" House Sold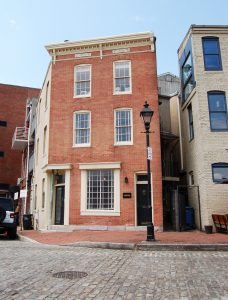 A little piece of Baltimore history has recently traded hands, as the Fells Point house featured as the charming home of Annie (played by Meg Ryan) in the movie "Sleepless in Seattle" has sold.
The building dates from 1812, when it was used as a steamship ticket office, and recently served as office space for seller National Capital Teleservices, which plans to consolidate its business to other locations.  The 1,995-square-foot, three-story building located at 904 S. Broadway Street features a rooftop deck, spectacular water views and a prime Fells Point location across from Broadway Market, just a block away from the Sagamore Pendry Hotel. 
The new owner, an investor, plans to give new life to the space by using it for retail purposes.
Just like the rom-com that featured it, there is something magical about the building that stands the test of time.
J.C. Beese, III and Richard F. Blue, Jr., SIOR of Blue & Obrecht Realty, LLC / CORFAC International represented the seller, and the purchaser was represented by Kenneth Winston of Execuhome Realty. The property traded for $530,000.00.
Blue & Obrecht Realty, LLC / CORFAC International is a full-service commercial real estate firm offering landlord and tenant representation, and property acquisition and disposition. CORFAC International – Corporate Facility Advisors – is an alliance of entrepreneurial commercial real estate firms that partner to deliver quality and experienced service locally, nationally, and internationally.